Perhaps it is a relic of their upbringing, in an age of softer parenting and the unlimited mistakes that video game culture has allowed us to make.  Or, possibly, it's the invincible aura that comes from the wall of inflection and anonymity of the internet, boosted by the arrival of an online celebrity that's constantly fueling this ecosystem with little to no consequence of his own, but some of disc golf's most imbecilic takes have now been showered upon us thanks to one of the least controversial decisions that the DGPT has ever made:  Awarding the FPO Rookie of the Year honors to Juliana Korver.
First and foremost, let's get go ahead and get this out of the way:  Rookie of the Year isn't, and perhaps should never be, an objective superlative.
In fact, no superlatives are really calculable. The "best dressed" person in your senior class didn't submit their Hollister or LaCoste receipts to the yearbook committee to be considered for the award.
The whole ethos of this sort of acknowledgement, as it has been for time immemorial in other sports, is to send a warning to the rest of the competition:  Watch out.  There's a new obstacle standing between you and the podium next year.
Juliana Korver checks that box with aplomb.
This is an honor – not some cash prize that you compete for succinctly and specifically.  You earn Rookie of the Year in passing, and on account of the cumulative impact of your other, more literal achievements along with something a little less measurable.
This is an honor far more about impressions than metrics, and it appears that, unsurprisingly, one of the more contrived corners of the disc golf industry just doesn't get it.
Take, for instance, a tweet from the orbit of bro-centric Foundation Disc Golf, in which one of their semi-professional online "personalities" suggests that his pick for the DGPT Rookie of the year is Ken Climo, a man who played in exactly zero DGPT events in 2021.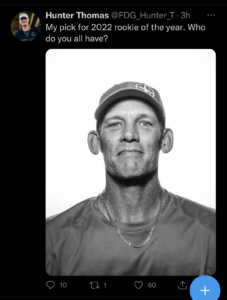 It would be funny if it made a single lick of sense, but, almost predictably, this lukewarm swing-and-a-miss was little more than desperate clickbait meant to keep the content flowing because, if it doesn't, their value to the disc golf industry becomes terribly difficult to discern.
---
This edgelord gibberish notwithstanding, the DGPT should be applauded for taking this opportunity for the marketing checkmate that it is.
You see, this is a new era for disc golf, as the DGPT takes over a vast swath of duties previously belonging to the PDGA, asserting themselves as the stewards of the professional game and positioning Jeff Spring at the helm of this rocket ship.  They would be wise to avoid reinventing the wheel entirely, lest they wish to give the sport over entirely to the aforementioned edgelords.
But by recognizing that Korver, a consummate veteran, was indeed a rookie in their system, it paid homage to the sport in a way that only this very specific opportunity afforded them.  Another such instance may never present itself again, (unless Scott Stokely shows up next year and knocks our sock off).
---
But, importantly and unequivocally, this was not merely a PR move.  Not in the least.
Juliana Korver earned this.    The 5x world champion proved that she was still worthy of a spot on the sport's most prestigious stage, not only in her playing, (which was nigh indiscernible from her previous successes), but through the buzz that she generated by just being there.   Remember, this is not an objective, stats-based honor entirely.
The sheer amount of excitement generated by Korver's presence was indicative of just how special this season was. And, furthermore, the realization that much of this fervor and adulation was being espoused by her competitors is a telling and powerful testament to the impact of having Korver on tour.
The same could certainly not be said for the internet peanut gallery and their incessant need to root around in the trash to dig out some opinion to share in 144 characters or less.
In fact, it could be argued that Korver's incidental ability to expose the pedantic underbelly of mainstream disc golf pop culture adds yet another bit of intangible value to her breakout DGPT season.