People love J.P. Moseley, it's undeniable.  This is the sort of course that takes you gleefully out of your comfort zone every few holes, and shreds even the most well-conjured game plan to pieces at least once a round.
It's the type of course that whispers in your ear on the teepad, "C'mon, cowboy; you know you wanna try that".
I guess I said all that to say all this:
It was only a matter of time before J.P. Mozeleague blew up.
Boasting upwards of 60 participants week-in and week-out, the Winter 2020 edition of the league was an instant classic, building off of the success of previous seasons and the inaugural Tour de Griffin, which featured several of the same south side faces.
This year's layout was fairly brutal, and the pain came early, as the always-tricky 2 Loop ended some rounds before they ever began.  It was then back to the main course for Hole 3 and Hole 4 before embarking on the more traditional back half of the 4 Loop, which included the dreaded OB line between 4D and 4F.
Then, just as you get that your wings flapping on 7 and 8, you're skipping back to 14 for some tighter fairways and heavier cabbage.
19 holes.  Par 62.  Soul crushing in streaks, inspiring in spurts.
The draw went far beyond the course, however, as there was the stellar organization of Team Puckett, (who may or may not have been a bit surprised by the consistently large turnout that the winter league received).
Action was similar to previous incarnations of the Mozeleague, with discounts for getting a season pass, $5 and $10 divisional bounties, and $5 ace/CTP per round.
The second half of the season also saw some side-games implemented for before-and-after the round shenanigans, including a brutally humbling version of Top Golf where a high score of 12 out of a potential 20 points took home the money.
Over in the traditional side action, folks were gettin' paid.
Through the first five of the six weeks of Mozeleague, $964 was handed out to CTP winners, $668 was awarded for aces, and nearly a grand worth of discs, apparel, and assorted other prizes have been distributed….
...and they're not done yet.
The 2020 Winter Mozeleague ends on Sunday, March 1st  with a host of season-long prizes to be awarded, and a tight race atop the handicap leaderboard.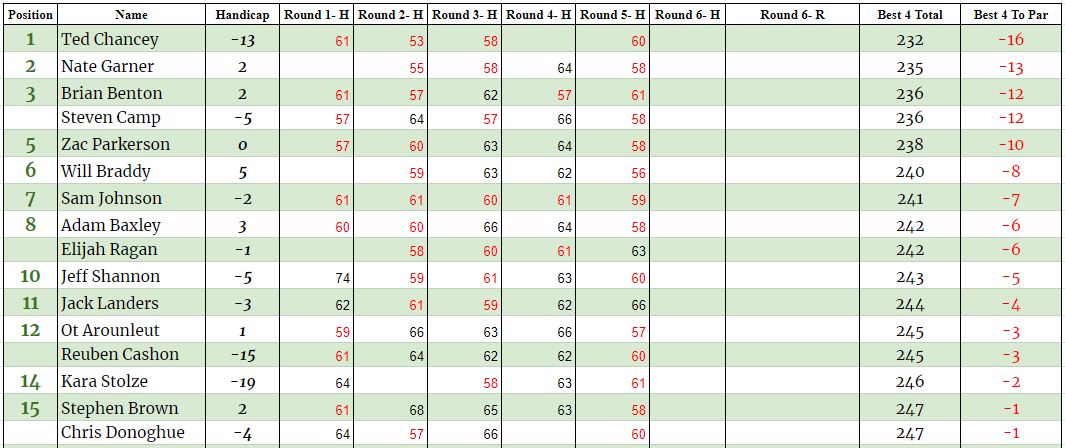 As you can see from the numbers, this is still very much anyone's race, and the top five finishers will be choosing from a prize pool that includes 2 Discraft/Grip Equipment bags, 2 Discraft Chainstar Lite Baskets, and a free entry into Hotlanta 2020.
Will fan favorite Ted Chancey hold on for the win?  Will Nate Garner let round 4 haunt him through the stretch?
It's still too close for us to tell who'll be poppin' bottles on Sunday, (wink, wink), and a gallery is always welcome at the spacious J.P. Moseley Park.  The weatherman is calling for temps in the 60's and a mix of sun and clouds as it stands midweek.
Signups start at 1:30pm on Sunday, with an anticipated shotgun start right around 2:00pm.