There is but one rule to visiting Atlanta:  Do not, under any circumstances, call it "Hotlanta".  That's not a thing, no matter what the thermostat or pop culture tells us, and your use of the phrase will immediately launch you into a second-class caste among the locals.
Now that we've gotten that out of the way, we can get to talking about the premiere cultural confluence of disc golf, craft beer, and heady jams in the dirty south.
Sweetwater 420 Fest returns to Centennial Olympic Park from April 28 to May 1, 2022, and brings with it one of the headiest lineups to date:  Oysterhead, Trey Anastasio Band, String Cheese Incident, Umphrey's McGee, and more.  This is the jammiest 4 days in 2022 hands-down, and it's all happening in one of the greatest cities on the planet.
But, just like the "Hotlanta" thing, having a little insider knowledge will help you navigate the capital of the south without incident, and without getting suckered into the plastic pall of the tourism trenches.
Disc Golf in Atlanta
We are, first and foremost, a disc golf publication.  Sure, that may just be a thinly-veiled excuse to buy and write about sneakers, but it does provide us with a platform to help disc-golfing visitors make informed choices about Atlanta, and we take enough pride in that not to steer you wrong.
There is but one disc golf course in Atlanta proper, and it is a beaut:  Perkerson Park in the Capitol View neighborhood is a moderately wooded gem that exudes the very ethos of East Coast disc golf.  Designed by John Ritger, (and with input from Andrew Fish), you will find plenty of challenge from both the short and the long tees, but with a few genuinely beautiful opportunities to let 'er rip as well.
Sweetwater Brewing Company, along with the Intown Atlanta Disc Golf Club and Frolfer Magazine, will be hosting a one-round 420 Fest "par-ty" on Thursday, April 28th at Perkerson Park, with the proceeds going to the help finish the Dekalb Memorial Disc Golf course in the nearby Parkview neighborhood.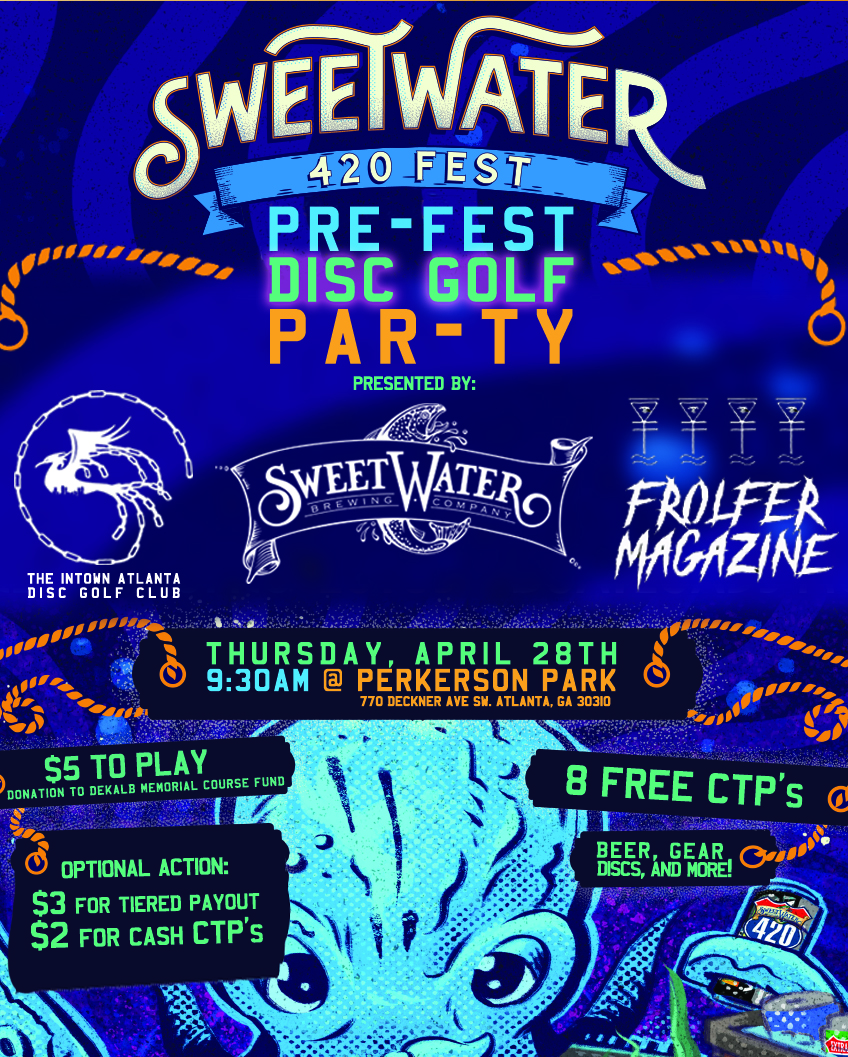 The Pre-Fest Par-ty will feature prizes from Sweetwater Brewing, Frolfer Magazine, and more.
Perkerson also plays host to several weekly, PDGA-sanctioned leagues:
Frolfer Fridays begins signups at 4:20pm, teeing off around 5pm, and will be playing from the short pads on the 29th.
Sunday Service is a staple of the ATL disc golf community, with signups beginning at 8:30am, and tee off right around 9am.  This Sunday will be from the short pads as well.
Both leagues are $2 to play, with optional $3 CTP/Ace action and $5 tiered payout.  ($10 all in).
Disc Golf NEAR Atlanta
While Perkerson Park remains the only course in Atlanta itself, there are a glut of tremendous tracks just outside of the city too busy to hate, all with their own unique charm.
Redan Park (Rosewood Dekalb):  One of the older courses in the area, Redan harkens back to some of disc golf's formative days.  Simple in its design, but devilish in the details, Redan is a true "park" course with bomber holes, tight gaps, ace runs, and interesting shot-shaping to be had for the serious golfer.  Less-experienced players will enjoy the course's fairly straightforward vibe and picturesque fairways.
The Tracks, McDonough:  If you're looking to be humbled, The Tracks in nearby McDonough, GA is your huckleberry.  With fairways resembling mineshafts, this heavily-wooded and highly technical course is the place that locals love to hate, and hate to love.  Hole 9 basket selfies are guaranteed to pump up your social media game, but Hole 11 will be lurking soon after to keep your head from getting too big.
Hobb's Farm, Carrollton:  An hour's drive west of the city of Atlanta lies one of the southeast's premier courses – the John Houck-designed Hobb's Farm.  Big arms will have an advantage every third hole or so, but the beauty of this track is its ability to push you out of your comfort zone.  Gorgeous from start to finish and perfectly bucolic in sections, Hobb's is the disc golfer's disc golf course, and worth the stop if you're traveling in or out via I-20.
Little Mulberry, Dacula:  A course that truly has it all, Little Mulberry can be as frustrating as it is fun at times.  Several holes beg you to unload the entire bag off the tee, while others have you struggling to just keep it in the middle with a putter.  The stretch from Hole 10 to Hole 15 is one of the most unique in disc golf, and will have you reaching deeper into your bag than you have in quite a while.
Green Valley, Griffin:  One of the prettiest properties to ever have baskets planted on it, the water-heavy Green Valley is another banger from course designer and Innova pro Kevin McCoy.  Bring plenty of wide-rimmed, fast discs with you to battle the wind, and try not to smile when you step onto the tee of 8, 12, or 16.
Parker's Pasture, Covington:  One of the area's most unique courses, Parker's Pasture is an adventurous hike, traversing a dramatically undulating expanse that provides the player with the sort of shots that aren't easily forgotten.  Hole 3 may be the signature hole here, but number 8 might very well be one of the greatest disc golf holes ever designed.  Parker's Pasture may not be a very casual place to play, but it's completely worth the sore legs.
Food and Bev Near the Fest
Centennial Olympic Park is right in the heart of downtown Atlanta, and surrounded by all of the usual, tourist-friendly fare that one would expect to see in a city of its size.  Hooters, Subway, the Coca-Cola museum, and the Aquarium are all within walking distance of the festival, and give concertgoers an opportunity to latch onto something easy and familiar in between sets.
But for those looking to get a more nuanced taste of Atlanta while sticking close to the party, there are a few options that you'll want to consider:
Der Biergarten:  Just a few blocks from the festival, this German-inspired eatery features authentic Bavarian suds and bites, including some of the best schnitzel in the south.  A good place to find those much-needed carbs to balance out the beers, the lively patio scene will make for a nice pre-fest or post-fest hangout spot.
Waffle House:  An Atlanta staple, Waffle House has been curing hangovers with greasy plates for nearly 70 years, and have spread out along southern highways and byways more proficiently than kudzu.  Pro-Tip: Locals will know better than to start their day at WaHo, preferring instead to digest the nearly-medicinal hash browns in peace back home as opposed to out dancing in the sun.  Open 24 hours, because of course it is.
CNN Center:  Looming over Centennial Olympic Park is CNN Center, the headquarters for the original cable news network, that also happens to house a large and diverse food court on the bottom floor.  With something for everyone, this is going to be your best bet for satisfying large groups with varying palettes.
Food and Beverage in the Rest of Atlanta
For those festgoers who are unburdened by the geographical shackles of the festival itself, Atlanta is a city ripe for exploration, and attempting to whittle together a small list of the best spots to visit is a far more difficult task than it seems.
Fancy Dinner Date Spot – Kimball House:  One of Decatur's most awarded restaurants, Kimball House is known not only for their masterful mixology, but also for their large and exotic raw oyster menu.   The Glacier Bays are a personal favorite, paired with the Sorrel Spritz or a Sazerac.
Trailer Park Chic – Red's Beer Garden:  Tucked away in a far corner of the Grant Park neighborhood, Red's embodies the feel-good, summer cookout vibe to an obscene degree.  With a huge craft beer selection and a menu that resembles a 10 year-old kid's dream, Red's is a no-drama, no-worries joint that exudes fun first and foremost.
Decidedly Un-Heady Vibes – Sabbath Brewing:  East Atlanta has quickly become one of the city's loudest boroughs, with venues such as The Earl, 529, and now Sabbath Brewing providing a place for local and touring acts to make noise.  This heavy-metal themed brewery loves to experiment with lesser known styles and techniques, including an absolutely chewy un-boiled IPA that is both challenging and flawless.  Sabbath's vibe will provide guests with a much needed reprieve from the tie-dye-soaked ennui of 420 Fest, while also offering up some truly tasty craft beers.
[While it may seem gauche to promote another brewery in an article about Sweetwater 420 Fest, this is the price they pay for denying my media credential request.]
Greasy Pizza on The Beltline – Glide:  As Atlanta continues to grow at a very obviously unsustainable rate, developers and their cash cows have poured their attention into "The Beltline":  A continuously-growing sidewalk loop that caters to joggers, cyclists, and the Bird-scooter hordes.  While locals have come to bemoan The Beltline for its broken promises of affordable housing and the plethora of Los Angeles transplants that populate it on any given weekend, careening around and day drinking is still fun…if you can stomach the gentrification it represents.    About a block to the west of one of The Beltline's major access points is Glide, a fairly new pizza joint to Atlanta that serves up the sort of foldable, greasy goodness that even the most ardent New Yorkers are impressed with.  If you're going to avail yourself to the capitalist horrors of The Beltline, you should at least reward yourself with a slice while you're at it.
Beer Nerd Clout-Building Destination – The Porter:  Nestled in to a quiet, narrow space in an otherwise gaudy and loud part of town, The Porter offers a nearly unmatched selection of incredible beers and fantastic food.  The cellar list is almost overwhelming at times, but the staff is perfectly knowledgeable, (and not at all pushy), which makes for a gleefully un-intimidating experience. Must have:  Goat cheese fritters with the vintage geuze of your choice.
---
And while this list represents only a small fraction of Atlanta's wealth of experiences, locals are usually more than excited to inundate visitors with their own "must-see, must-do" lists…just so long as they don't catch you in a Dodgers hat and/or mentioning "Hotlanta".